Upwardly mobile
New storage options ideal for dorms and apartments
By Harriet Schechter
August 22, 2004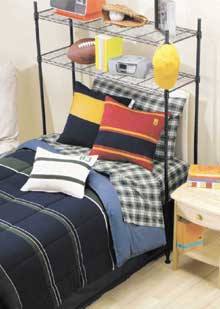 Take advantage of vertical space above a bed with the Dorm Space Saver Shelf. $39.99, at Bed, Bath & Beyond


Anyone who has ever lived in a small place knows the First Rule of Stuff: Stuff expands to fill the space available for storage.

Naturally, the smaller the space, the faster the stuff expands.

Whether your residence is a dorm room, a studio apartment, a cramped condo or a "cozy" cottage, it's a challenge to find effective ways to store what you already have – not to mention what you'll accumulate as time goes on.

Fortunately, there are now plenty of well-designed storage options available. The downside of this super-storage abundance is that it can be difficult to choose what will work best for your limited space. This makes it easy to buy things that turn out to be more interesting than useful, which can result in space-wasting "clever clutter syndrome."

How to avoid this common condition? Keep in mind just two key guidelines: Utilize vertical space and use mobile, multipurpose units.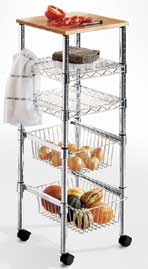 A chrome pantry rack adds storage to other rooms, as well as kitchens. $29, at Target stores.

Look up
In small spaces, there's nowhere to go but up, so utilizing vertical space is essential. (This does not mean piling up stuff to mountainous heights.)
If you live in a dorm or apartment, restrictions on making holes in walls and ceilings may prevent you from installing wall-mounted shelving and rack systems, but that doesn't mean you can't make the most of your vertical space. Here are five types of vertically oriented storage aids that will stop you from climbing the walls:
Baker's rack –Forget the kitchen connotation. Baker's racks are useful anywhere you need a combination of multipurpose surface and storage. Target's Chrome Baker's Rack ($59) is an ideal yet inexpensive example. The shallow upper shelf can hold everything from CD collections to grooming supplies, while the wood-covered "work surface" and larger lower shelves are handy for storing bulkier stuff such as books, storage baskets and file boxes.
Detachable wire hooks that hang from a grid are good for keeping a variety of frequently used items accessible: caps, keys, scissors and anything else hangable that tends to get lost underneath other stuff left on horizontal surfaces.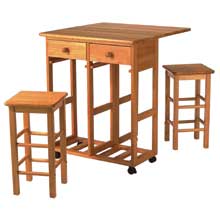 Target

This compact breakfast set has many other uses, including serving as a portable home office. $120, at Target and Amazon.com.


Bed etagere – For some people, a nightstand is merely a nicety. For others, however, it's a necessity. It does make sense to have a bedside spot for keeping within easy reach things like an alarm clock, a box of tissues and various personal items. But dorms and other small bedroom spaces rarely have room for a nightstand.

Fortunately there's another option that goes over the bed instead of beside it: Bed Bath & Beyond's Dorm Space Saver Bed Etagere ($39) fits over a standard twin bed and features two shelves, each with a 150-pound capacity (although you won't want to store anything that heavy on it in case of an earthquake).

CD tower – Storing compact disks shouldn't take up too much room – after all they're just skinny little things. Yet somehow they manage to expand beyond their natural boundaries, spilling out of drawers and other containers.

One solution is to streamline your CD storage by replacing any relatively bulky organizers with a slender CD tower such as IKEA's Hacka ($20). It holds up to 120 CDs in a unit that's 56 inches tall and only 11 inches wide and deep. And minus doors or drawers, it's easier to view and access your collection.



IKEA's tall, narrow Hacka CD tower holds up to 120 CDs. $20, at IKEA, Mission Valley


Door hinge-mounted rack –Corner space is often wasted because it's difficult to find ways to use it effectively, especially when the corner is behind a door. Now there's a device created expressly for utilizing that tricky space.

The Hinge-It Towel/Clothes Rack ($29, Bed Bath & Beyond) installs easily on the hinges of most doors and has four, 16-inch tubular steel arms that provide more than 5 feet of hanging space. It's handy for hanging everything from damp towels to your almost-ready-to-wash clothes.

Hanging closet organizers –Vertical storage isn't limited to shelf-oriented units. In fact, there's a whole range of hanging closet accessories that utilizes vertical space inside closets and on closet doors. These organizers are designed to accommodate specific cloth ing categories.

For example, Bed Bath & Beyond's Hanging Canvas Closet Accessories ($15) are sized for sweaters and shoes, but the over-the-door shoe bag also works well for everything from underwear to small purses.
On the move
The invention of the wheel stands as one of humankind's greatest inventions, so honor that achievement by investing in wheeled furnishings whenever possible.
Rolling systems such as carts, racks and trolleys make it easy to move things around so you can reach what you need when you need it, then roll it out of the way when you don't.
Having things on wheels also makes rearranging your furnishings much easier. And when rollability is paired with multi-functionality, you get the most versatile and effective storage options.
Here are some good examples:
Rolling file cart –Keeping file drawers accessible is one way of preventing paper pile-ups. A rolling file cart that also includes shallow drawers for office supplies will work in almost any space.
Office Depot's Medium Storage Tower Cart ($36) is made of clear plastic so you can easily see what's in all six drawers. The two deeper drawers are sized for file folders but could also work for storing clothing, books, toiletries, etc.



A rolling cabinet with clear plastic drawers lets you store anything from files to toiletries and easily locate them. $36 at Office Depot.


Bin cart –Slide-out bins combine the ease of gliding drawers with the accessibility of open shelves. You can use a four-tier bin cart on casters ($20, Linens 'n' Things) for storing and organizing anything that requires horizontal storage, from paper supplies to folded clothing to toiletries.

Mobile bookcase –For items such as books, binders and notebooks that are easier to access when stored upright, IKEA's Didrik Storage Unit on casters ($10) is a handy size. It's low enough to roll under a desk or table, and can be turned sideways for a different storage configuration.

Kitchen racks – Look for storage systems advertised for kitchen use (like the baker's rack mentioned earlier), which can be quite effective in other areas and are especially versatile for small spaces.

A chrome pantry rack ($29, Target) provides a solid surface along with two wire shelves, two sliding baskets and locking casters. If more surface space and underneath storage are needed, a butcher trolley ($199, Target) is an expanded version of the pantry rack. It's more than twice as large, with added features such as a towel bar and bottle holders.

Mobile breakfast set –Anyone who has ever done homework or paid bills at the kitchen or dining-room table knows that it's often more comfortable to work there than at a desk. The only thing lacking is drawers for storage of supplies such as pens, notepads, Post-its and calculators. Fortunately there's now an option that combines the best of both worlds – plus it's on wheels. Target carries a compact breakfast set ($120) on casters with a drop-leaf that doubles surface size, a pair of drawers, and two stools that tuck underneath when not in use. With the drop-leaf down, it doubles as a rolling counter space, which can function as a tool for dividing up a shared room.
---