Paper chase
Keep clutter at a minimum with space-saving organizers
By Harriet Schechter
March 4, 2007
No room for a home office? No problem. These days, you don't need to have a separate room – or even a screened-off nook – for taking care of household business. (A home-based business, however, may require a larger area and more privacy.) The old concept of a home office as a singular, static space has given way to the idea that wherever various tasks tend to get done, the necessary tools and supplies should be located. The tricky part is how to arrange it all so your home doesn't end up with papers, electronics and supplies cluttering every corner. Fortunately, thanks to the latest space-saving home office furnishings and innovative accessories, everything from bill-paying, online banking and budgeting to processing mail and other paperwork can be efficiently handled in almost any area of your home.
All charged up




www.kangaroomstorage.com

Corral messy but necessary cords, ear phones, etc. in one place with the Divided Cord Storage unit from KangaRooM. Individual pockets can be labeled for easy access.

Laptops, cell phones, Blackberrys, digital cameras and other electronic essentials are increasingly common and vital components in many homes. But keeping them charged, accessible and organized is often a challenge.

Happily, there are several well-designed products made to address this challenge:

The e-Nook ($399 and up) is a combination charging station, work surface and storage unit that mounts on almost any wall and – here's the best part – hides away when not in use. Press the push-to-open magnetic door latch and a 30-inch-wide, 3/4-inch-thick work space eases down. It's deep enough to accommodate a laptop computer, mouse and notepad.

This clever clutter-cutter also features a hidden panel with a six-outlet power strip for charging all your gear; a fabric-covered back panel that functions as a bulletin board; and optional accessory shelves that can be configured in several ways. The shelves even include clips to keep cords and cables organized. The door and panel are key-lockable to provide safe storage for your laptop and other valuables.



Levenger Studios / See Jane Work

Levenger's Spin Doctor Desk Organizer (left) swivels for easy access to supplies, including pens, paper, stamps, paper clips and other office essentials. Expand your office work area by taking advantage of wall space (right). The colorful Pocket Strip Wall Organizer from See Jane Work is held up by magnets.

Available in cherry, maple or white laminate exterior and with a range of fabric colors and styles for the interior, the e-Nook measures 251/2 inches high by 36 inches wide by 71/4 inches deep (flipped down, the desk area is 161/2 inches deep).

Suggested use: Mount near the main entryway so it's convenient for family members to drop off and pick up their electronic gadgets, get mail and leave messages for each other.

Source: Anthro – (800) 325-3841; www.anthro.com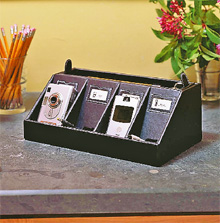 The Cell Phone Charging Station from KangaRooM Storage holds an iPod, PDA and small camera, in addition to cell phones.

The Cell Phone Charging Station ($30) is a compact, economical option for charging and storing small electronics. Designed to sit on a desk or other horizontal surface, the 111/2-inch-wide by 63/4-inch-deep by 4 1/4-inch-high unit has sections for four devices, such as a cell phone, a PDA, as mall camera or an iPod. Each open compartment has a label-holder (preprinted and blank labels are included), and a slot for threading charging cords through to a central hidden compartment hatch keeps them tucked neatly out of sight.A removable top shelf (for keys and other small, easy-to-misplace items) allows access to the hidden cords, while the back of the unit has an opening to accommodate a power strip (not included). The unit comes in black or brown faux leather with blue accents.

Source: KangaRooM Storage – (415) 543-3615; www.kangaroomstorage.com

The Divided Cord Storage and Organizer ($27.50) keeps chargers, earphones and related accessories, along with their spaghettilike cords, neatly organized and easy to find. This double-decker rectangular box (14 inches wide by 8 inches deep by 5-½ inches high) has two zippers, one to access each level. The bottom section is divided into four deep compartments that can hold large transformers or similar bulky items, while the top tray has dividers to organize five accessories and plenty of cords. Each velour-lined compartment has a label holder and customizable labels are included.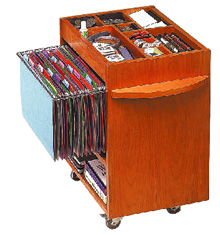 Levenger Studios

Levenger's movable Project Concierge Filing Cabinet is designed to fit under a desk. Compartments hold files and other office equipment.

Inside the lid there's yet another compartment, a Velcro-closure envelope for holding instructions or other materials. The unit is available in black or blue nylon canvas, or brown faux leather.

Source: KangaRooM Storage (see above).
Cord clutter from other electronic devices (cable modem, printer, scanner, fax machine, etc.) can be kept under control with various types of inexpensive solutions. The Container Store has a large selection of cord and cable organizers. In San Diego, the store is adjacent to Fashion Valley mall. (619) 220-0909; www.containerstore.com.
The WireMate ($20) is a streamlined system for controlling and camouflaging multiple strands and sizes of cords. Made to accommodate up to 18 wires of varying thicknesses, the sleek, high-impact plastic case (14 inches long by 8 inches wide by 2 inches deep) mounts easily with screws or double-sided tape on a flat surface, such as a wall or the back of a desk (all mounting materials are included).
Source: Innovative Problem Solvers – (212) 867-6020; www.wiremate.com .
Table tamers
In many homes, the dining area is where most "office work" actually gets done (or postponed). In fact, the kitchen or dining room table is probably the most popular place for doing all types of paperwork, from bill paying to schoolwork to tax preparation. But all too often the table surfaces end up piled with the detritus of ongoing or unfinished business.
You can control home office clutter in the dining area by using a rollaway organizer cart such as the Project Concierge Filing Cabinet ($198), which keeps loose documents, files, office supplies, books and manuals handy in one mobile unit designed to fit under a table or desk.
The cherrywood cart (available in dark or natural), which measures just 24 inches high by 14 inches wide by 19 inches deep, features a pullout file arm that holds 15 inches of letter-size hanging files or 12 inches of legal-size files; nine open compartments for pens, paper clips and other necessities (four are angled for easy retrieval of small items); and a storage shelf for reference materials or paper piles.
Source: Levenger – (800) 667-8034; www.levenger.com.
An alternative favorite place to do paperwork is on the sofa, using the coffee table as a makeshift desk. This is another table that often ends up cluttered with everything from mail to insurance paperwork, and of course magazines and newspapers.
One clever solution is the Adjustable Height Coffee Table ($350), which features a top that lifts and locks to work-table or dining height, plus inside storage accessible via front and back hinged doors. An adjustable interior shelf holds paperwork, reading materials, remote controls, etc.
Made of wood composite materials with birchwood veneer (available in three finishes), the unit measures 38 inches wide by 24 inches deep by 20 inches high.
Source: Brookstone – (866) 576-7337; www.brookstone.com .
Desk doctors
Whether you have an actual desk or just a corner of the kitchen counter allocated for your home office, a desktop organizer can help you keep things in order.
A good example is the Spin Doctor Desk Organizer ($58), which has a revolving base that swivels 360 degrees for easily accessing supplies from any angle. Constructed of solid alderwood (available in dark or natural cherry stain) and measuring 10-¾ inches wide by 10 inches deep by 9 inches high, the unit's multiple compartments include a space for mail, sections for 3x5 cards and a calculator, a paper-clip holder, a removable foam pen insert that holds six pens or pencils upright, room for a junior-size notebook, and a drawer that slides out from either side.
Source: Levenger (see above).
If you have a bit more space to work with, Wood Options Modular Organizers ($20 to $180) offer multiple storage solutions in a variety of configurations. The product line consists of seven components designed to hold almost every type of office essential, from pens and pushpins to papers, manuals, envelopes and CDs.
Each unit has the same base dimension (13-½ inches wide); the base of each piece is grooved for stacking to interlock with the entire line of accessories. Depending on the size of your work surface, multiple units can be aligned side-by-side, or stacked atop one another.
The pieces are constructed from medium-density fibreboard (MDF) laminated with wood veneer and finished in a choice of three stains: mahogany, medium oak, or cherry.
Source: Bindertek – (800) 456-3453; www.bindertek.com .
Put walls to work
Not enough desk, table or countertop work space?
The Pocket Strip Wall Organizer ($25) is a wall-mounted storage system designed to supplement horizontal surfaces.
The 22-inch-wide by ¾-inch-deep magnetized pocket (available in red or ivory) is a handy place to store frequently needed folders, bills, notepad, calculator and similar items that might otherwise end up hidden in a pile of clutter. Six small, powerful magnets hold to-do lists, reminders and photos along the front.
Source: See Jane Work – (877) 400-5263; www.seejanework.com .
---
Harriet Schechter is founder of The Miracle Worker Organizing Service and author of three books, including "Let Go of Clutter" (McGraw-Hill). Her online advice column is at www.MiracleOrganizing.com.