Little things mean a lot – especially when you have a lot of them.
Accessories are proof of this theory. Shoes, for example. Sometimes it seems as if they breed in dark closet corners since there are usually more pairs (and sometimes singles) than you thought you had.



The Container Store

Shoe and handbag storage cubes from The Container Store provide a clear view of what's inside.

Inevitably, if you've got a lot of shoes, you also have more than a few purses to go with them. Perhaps a bunch of belts, too. And possibly a small but cherished collection of hats.

No wonder you've run out of room for clothes in your closet – all those little accessories are hogging the space.

Of course, closets aren't the only victims of accessory overload. Dresser drawers have a magnetic attraction for little things like jewelry (never enough) and scarves (often too many).

Guys aren't exempt from accumulating accessories either.

OK, maybe most men don't collect an infinite number of belts, but there are those who have far more ties and/or caps than they'd care to admit. (Think of all the little Father's Day gifts.)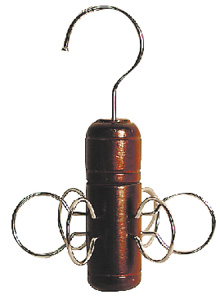 The Hanging Scarf Spinner holds six scarves.

And while a few watches and a bit of bling may not take up much space, they sure can take up a lot of time spent looking for them if you don't have a good storage system.

Luckily there's no need to sweat the small stuff thanks to several ingenious space-saving products that help keep accessories accessible.

Shoe storage Whether the size of your shoe collection rivals Imelda's or you have a more minimalist approach to accumulating footwear, there are storage options for almost every space and budget.

Shoe organizers come in many styles, including racks, cubbies, underbed chests, stackable drawers, hanging pockets, and boxes made of clear acrylic or other materials. You can peruse the most comprehensive selection at The Container Store (Fashion Valley, 619-220-0909; www.containerstore.com ).



The Rev-A-Shelf Chrome Tie and Belt Rack holds ties, belts and sundries.

One of the very few worthwhile shoe systems they don't carry is the Extendable 9 Pocket Shoe Organizer ($20; Linens 'n Things, www.lnt.com, 866-568-7378), which hangs from a closet bar and adjusts in length to utilize the space beneath hanging clothes. Nine open compartments are sized to hold both men's and women's shoes, keeping pairs off the floor and easy to access. Made of clear PVC with navy trim, the unit measures 16 inches high by 20 inches wide by 13½ inches deep and the length of the straps extends from 2 inches to 54 inches so the storage section can hang below various clothing lengths.

An additional efficient space maximizer from a different source is The Perfect Curve Shoe Organizer ($25; www.organizes-it.com, 800-210-7712), a clever alternative to the typical door-hung pocketed shoe holder.

Twelve adjustable steel-and-nylon shelves are attached to cords topped with a four-way hook that lets you hang the system on all types of doors as well as in a closet, on a wall or from the ceiling. The shelves can be moved up or down individually for customized spacing and also are tiltable to accommodate heels of any height.



Organizes-it.com

The Perfect Curve Shoe Organizer comes with adjustable shelves that hold a dozen pairs of shoes.

Measuring 10 inches wide by 72 inches high by 10 inches deep, the unit also features bumpers for protecting shoes and walls, and a heel-catch bar to keep footwear securely anchored in place.

Purse storage Short-handled handbags, long-strapped shoulder bags, tiny clutches and floppy totes – these extremes in purse physiology can create a storage challenge even if you don't keep mass quantities of any or all types.

Hanging strappy bags and totes from conveniently located hooks is an effective and time-honored tradition; likewise, storing evening clutches in drawers and flat-bottomed handbags on shelves may work just fine.

But if those old standbys don't do the trick there are other options worth considering, including:

The Container Store's Solid Shelf Dividers ($7 for a pair) and Shoe & Handbag Storage Cube ($25) help make the most of shelf space. The 8¼-inch by 8 3/8-inch metal dividers slide onto wooden shelves (other dividers are available for wire shelves) to keep purses upright and neatly separated.
The clear plastic Storage Cube (12 inches wide by 10 5/8 inches deep by 10¾ inches high) can be used side-by-side or stacked.
Each cube includes two removable dividers – one vertical, one horizontal – designed to create compartments for at least two handbags.

The Over the Door Purse Storage Rack ($10; Target online only, www.target.com) consists of two 75-inch-long, 1-inch-wide straps made of nylon webbing with adjustable hooks for holding up to 16 purses of varying sizes and strap-lengths; an elastic strip and two metal over-the-door hooks should keep the rack in place on most doors.
Scarves, belts and ties Long, skinny accessories-scarves, belts and ties are best stored on hooks or specialty hangers, most of which are inexpensive and readily available at your local housewares retailer.
One clever device in this category is the Hanging Scarf Spinner ($8; The Container Store or www.hangercity.com, 800-600-9817), a 7-inch-tall, 5-inch-wide hanger with six metal loops attached to a wooden cylinder that spins to allow easy 360-degree access.
A uniquely useful gadget is the Rev-A-Shelf Chrome Tie and Belt Rack with Tray ($70; www.specialtysupplies.com, 866-344-6437), designed to hold 20 ties and nine belts along with sundries such as your watch, wallet, change, etc. The wall-mounted unit (6 inches wide by 5 inches high by 14 inches deep) features a pull-out rack with full-extension slides, along with a handy valet tray on top.
Jewelry storage Earrings, necklaces, bracelets, brooches, rings – there are probably more categories of jewelry than any other accessory. But it's the subcategories that make it tricky to find the best storage solutions for your needs. For example, chain necklaces require special care to keep them from getting knotted and tangled, and should be kept away from necklaces made of pearls, gems or beads since those need to be stored in a scratch-free environment. If you've somehow managed to avoid accumulating mass quantities of jewelry, the Smart Jewelry Case ($23; www. travelsmith. com, 800-950-1600) is a streamlined solution for safely storing a variety of baubles. The travel-ready rubber-coated hard case (9½ inches by 4½ inches by 2 inches) features a velvet anti-tarnish liner and a two-sided design. One side has a patented soft-peg system that keeps necklaces both untangled and scratch-free; the opposite side includes secure compartments for earrings, pins and other pieces.
The case comes with a velvet carrying pouch and is available in four colors – handy for color-coding if you need more than one for organizing your collection.
If you'd like more room for jewelry storage but lack space for a full-size jewelry armoire, the Wall-mounted Jewelry Cabinet & Mirror ($199; www.jewelryarmoire.com, 800-485-7207) is a compact compromise. Hidden behind a full-length mirror (48.13 inches high by 14.63 inches wide by 4.13 inches deep) is a lockable felt-lined cabinet with multiple hooks for hanging necklaces and bracelets, along with holders for all sizes of rings and earrings, and a removable brooch box.
Available in oak, cherry or white finish, the cabinet is constructed of medium density fiberboard and wood veneers and the mirror frame is made of solid Chinese oak.
Headgear Storage "Wearing multiple hats" is something that many people claim to do – but how are they storing all those hats? Different types of headgear require radically different storage solutions, so here are a few to consider.

For cap collectors, the Over-the-door Cap/Hat Organizer ($9; www.hangercity.com, 800-600-9817) provides a budget-friendly, space-saving way to store and display up to 24 caps in individual, clear vinyl pockets attached to a nylon frame (53 inches tall by 26 inches wide). The unit has three hooks designed to hang from the top of most doors.

The Red Hat Society says it has 76 chapters in San Diego County, so there are probably at least a few more hat-wearers out there looking for a good way to store ladies' hats. Hatboxes have been around for centuries but there weren't any major variations until recently.
Now there's the uniquely stackable Millinery Vault ($40, www.millineryvault.com, 613-601-6131), a Canadian product. Shaped like a thick-based pyramid, this clever contraption (available in clear plastic, or in pink or red cardboard) is designed to protect hats and save space. The pointed top of each unit fits into the bottom of the unit stacked on top of it.
Each Millinery Vault is 13 inches in diameter and about 10 inches high, and a stack of five vaults is approximately 30 inches high. A coordinated carry-handle makes them easy to transport.

As an alternative to hooks that can leave indentations on felt, leather, straw and other soft hat materials, there are special racks for displaying and protecting the shape of cowboy hats and similar brimmed headgear.
The Cowboy Hat Rack ($25 and up; www.cowboyhatrack.com, 505-306-7539) consists of a wall-mounted wooden rack with wide horseshoe-shaped horizontal holders that let hats rest upside down and provide brim support.
Racks come in single, double, triple and four-hat sizes and are available in vertical and horizontal styles; coat hooks are included.
---

Harriet Schechter is founder of The Miracle Worker Organizing Service and author of three books, including "Let Go of Clutter" (McGraw-Hill). Her online advice column is at www.MiracleOrganizing.com.