! --- DATE: 08/13/02 CONTACT: J. Lehrer LOCATION: http://www.aaa-calif.com/westways/0902/car-clutter.asp AUTHOR: I. Dierdorff --->
How to deal with the junk in the trunk, the trash
on the dash, and everything in between
By Harriet Schechter
Illustrations by Chris Robertson

icked up any hitchhikers lately? No? Are you sure? If you're like many drivers, you regularly chauffeur everything from papers to clothing to sporting gear to toys. The only problem is, some of these traveling companions never leave.
Whether strewn across the seats, scattered atop the dashboard, stuffed above the visors, or crammed into the glove compartment, clutter is like a pesky passenger. It can distract you, waste your time, and obstruct your visibility. It can even be deadly: Fender-benders may turn ordinary junk into deadly projectiles.
Until a few years ago, car clutter tended to consist mostly of things like messy maps and fast-food wrappers. But now, more people are spending more time in their cars and even using them as mobile offices, and the current baby boom has created an avalanche of accessories that often take up residence in the family vehicle. So if you've been feeling a bit crowded lately, maybe it's time to say good-bye to the clutter. Here's how:
Identify the culprits. Before you rush out and buy a bunch of car organizers that might end up adding to your clutter, figure out what types of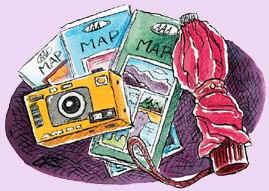 Once you've jettisoned the stuff you don't need, you'll have room to stash the stuff you do. Below is a checklist of important things to have in the glove compartment or door-panel bins.

• Disposable camera (to capture postaccident evidence)
• Flashlight (with extra batteries and bulb)
• Road maps
• Sealable plastic bags (for food spills and other uses)
• Pen and notepad
• Premoistened towelettes
• Tissues
• Tire gauge
• Travel umbrella or poncho
• Matches
• Insurance card

stuff tend to pile up in your vehicle. Consider these common categories: papers (receipts, ATM records, coupons, office paperwork, shopping lists), reading materials, cassettes and CDs, clothing and accessories, errand items (such as dry cleaning, library books, rented videos), kids' toys and supplies, maps, sports gear, and trash.

Contain the cargo. Now that you've taken inventory, you're better prepared to select the most effective containers. The best ones will help you keep your stuff both organized and accessible. But beware of cute devices that are more clever than useful. You want to be able to grab what you need when you need it, not waste time fumbling with latches or too-tight lids.
Different types and sizes of organizers are available for each area of your car: glove compartment, seats, dashboard, visor, floor, doors, and trunk. Some have a specific purpose (such as sunglasses holders that clip onto windshield visors and notepad-and-pen systems that attach to the dashboard), while others are adaptable.
Organizing expert Debbie Williams, owner of OrganizedU.com and author of Home Management 101: A Guide for Busy Parents (Champion Press, 2001), suggests keeping a sturdy crate or laundry basket in the car for errand items.
"My all-time favorite is a collapsible plastic crate that takes up very little space when not being used," she says.
Along with crates and baskets, clear plastic storage containers with lids (hinged or removable) can help corral other bulky items such as toys and sporting gear. Popular brands include Rubbermaid Home Products and Sterilite, which you can find at most discount department stores.
If your car doubles as an office, choose containers specifically designed for papers and office supplies. Home office expert Lisa Kanarek, founder of HomeOfficeLife.com and author of Home Office Life: Making a Space to Work at Home (Rockport Publishers, 2001), recommends keeping files, catalogs, and other papers in plastic file boxes. "Whether you put them in your trunk or on a seat, quick stops and starts will no longer cause loose materials to fly throughout your car," she says.

Stash the trash. Having easy-to-use trash containers handy in both the front- and backseat areas will help prevent your vehicle from filling up with debris. Trash receptacles come in two styles: stay-open and closable. Which type you choose depends on the types of trash you create — and in which area. For example, let's say food-related or other aromatic discards regularly create compost in the backseat. A sealable container that attaches to the back of a front seat (facing the backseat) may be a good solution. If papers or other trash pile up in the front seat, an open-topped minibin that sits between the seats or on the floor may be the best bet. Both types of containers are inexpensive and available at many automotive supply stores. Of course, if you want to keep things really simple, you can always use a small grocery bag. (Now you know what to do with all the ones you've been stockpiling.)
Clear it out. No matter how wonderful your trash-stashers are, they'll quickly become useless if you're not in the habit of dumping out their contents frequently. So establish a regular ritual: Each time you stop to get gas, take a moment to empty the trash.

Keep the clutter moving. The best way to maintain an organized, clutter-free car is to move stuff out of it. To lighten your load, adopt this simple strategy: At least once a week, remove everything that doesn't belong in your vehicle.
Just make sure all that stuff doesn't end up in your garage.
Harriet Schechter founded her San Diego, California-based company, The Miracle Worker Organizing Service, in 1986. Her newest book is Let Go of Clutter (McGraw-Hill, 2001). You can read her advice column at www.MiracleOrganizing.com.
You are reading the September/October 2002 issue of Westways. Some information contained in this publication is time-sensitive, and the terms of some offers (cruise or vacation packages, for example) or services (provisions for roadside assistance, for example) might have been superseded by subsequent information and might no longer apply.
Copyright © 1996 - 2002 Automobile Club of Southern California. All Rights Reserved.