organized outlook - HARRIET SCHECHTER

Counter bathroom clutter in short order
It's 8 a.m., and you're running late. As you frantically rummage through the medicine cabinet looking for aspirin, a bottle of mouth-wash falls off a crowded shelf and crashes onto the crowded vanity counter. Hair-care products, makeup and toothpaste fly in all directions. Even if you had time to try to put everything away, it wouldn't matter — every drawer is already full.
Trying to keep an overstuffed bathroom organized is a losing battle. No matter how many clever containers you use, the real problem is too much stuff in too little space.
But organizing becomes easier when you learn how to let go of excess and unnecessary items instead of continually cramming them into overcrowded cabinets and drawers. Here are key steps you can take to let go like a pro and keep your bathroom in order.
---
CLUTTER TIP
• When should you discard beauty products?
According to the Mayo Clinic Women's HealthSource, you should throw out makeup that has lost its original texture and consistency or that has changed color or developed an unfamiliar odor. This is more sensible than trying to follow the unrealistic rules suggested by beauty experts who recommend specific timelines for various types of cosmetics, such as three to six months for mascara and one year for lipstick. Honestly, who's going to keep track of makeup purchase dates?
---
Master messy medicine cabinets.
Look inside most medicine cabinets and you'll find a whole lot more than medicine. A store's worth of stuff is squeezed onto those skinny little shelves: grooming tools and supplies, cosmetics, dental-care items, first aid materials, contact lens solution, sunscreen, maybe even some cleaning products — and, if you're lucky, an aspirin bottle that isn't empty.
If your mirrored, over-the-sink storage unit has become a clutter cabinet, it's time to eliminate extra supplies, outdated medications and ineffective products. (This includes all those cute little hotel toiletries you've stockpiled from every trip you've ever taken.) Be ruthless when decluttering space-hogging beauty treatments and toiletries. Jettison almost-empty bottles of perfume and lotions, toss out nail polish that has gotten thick, and give yourself permission to get rid of any "but-I-may-use-it-someday" items no matter how much — or how little — they once cost you.
Next, focus on preventing future medicine-cabinet clutter. You can keep those shallow shelves chaos-free with the help of containers that provide limited yet easily accessible storage. Use transparent, narrow, rectangular containers to cluster products often used in tandem, such as skin care (cleanser/moisturizer/toner), dental care (toothpaste/mouthwash/floss), and shaving supplies (razor/shaving cream/after-shave).
Declutter disorderly drawers.
Cluttered bathroom drawers create a logjam effect: By making it impossible to put away items without a struggle, they encourage you to leave supplies out on the sink edges or counter top.
Clear out clogged drawers one at a time. Set a ticking timer for 10 to 15 minutes per drawer and start with the most accessible one. Take everything out; decide which items you use most often and where you tend to use them, and put them there; then relegate the nonessentials to a donation bin or the trash.
Prevent clutter from creeping back by dividing up drawer space with separate containers for different categories of products,such as hair-grooming supplies, cosmetics and toiletries. Multi-compartment drawer organizers like cutlery trays are also useful but sometimes encourage cluttering by providing too many or too few sections for your needs and/or compartments with dimensions that are not compatible with the shapes and sizes of items you need to store in them.
Stop the vanity insanity.
Bathroom counters that look like department-store cosmetic displays are frustrating to use and hard to keep clean. Frequently used supplies tend to "grow" on exposed horizontal surfaces because leaving things out is simpler than trying to cram them into overstuffed storage spaces.
Fortunately, once you've decluttered your medicine cabinet and bathroom drawers, you'll find it much easier to keep your vanity and sink counter surfaces clutter-free. Giving supplies a good home inside cabinets and drawers means they can be stored out of sight while remaining easily accessible.
Another way to help surfaces stay clear: Install wall-mounted holders for such items as toothbrushes, disposable cups, soap and paper towels. Also, a small shelf with a dish for holding rings or watches will give you a safe spot to put them while you're washing up.
Toss tub clutter.
Bathtub edges and shower corners seem to have a magnetic ability to attract everything from rapidly multiplying bottles of shampoo, conditioner and body-care products to clutter-causing kids' bath toys.
Take stock of your "product inventory" and move out anything that doesn't get used on a regular basis. Don't hang onto products like shampoo that you tried a couple of times but didn't like, or ancient loofahs that you keep forgetting to use.
A contrasting source of shower/bath clutter is nearly empty bottles of favorites: Pour the last drops into replacement containers and toss out the old ones.
If there are a number of items thatget used frequently by different family members, consider having a small plastic tote basket for each person's bath necessities. When not in use, these can be stored in a nearby cabinet instead of cluttering up the bath area.
There also are shower and bath organizers designed to utilize vertical space, such as shower-curtain pockets, telescoping corner shelves and over-the-showerhead caddies. But if you're not careful, these can become clutter carriers, so proceed with caution.
---
SPACE SAVER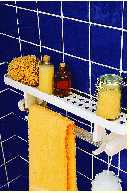 • The Penda Towel Bar Shelf creates shelf space above any standard towel bar, providing easy access to frequently used supplies. It installs easily without tools and does not damage walls or interfere with towel placement. $14.95. www.pendausa.com; or call (866) 467-3632.
---