organized outlook
HARRIET SCHECHTER

The Gift of Storage
Treat yourself to a holiday free of clutter and guesswork

The holidays come just once a year, but holiday clutter can span the seasons. Decorations and lights aren't the biggest challenge — it's the other stuff that gets used infrequently during the year and tends to get lost in the post-holiday shuffle. From excess gift wrap and extra cards to "special occasion" tableware and table leaves, there's always plenty to put away for another day.

Here are several specially designed products that help take the guesswork out of season-to-season storage dilemmas:

CARD KEEPERS


Current greeting card organizer
It's true that e-mailing holiday greetings saves trees, time and postage. For many people, however, the holidays just wouldn't be the same without the time-honored tradition of sending and receiving cards.

But greeting cards also can be a source of both seasonal and year-round clutter. They create two types of card-related challenges: how to display cards you've received and how to store cards you plan to send.

One of the most efficient yet decorative systems for displaying cards is the Overdoor Card Holder, a 47-inch-long gold metal rod that fits over most interior doors. With clips that grip up to 48 cards, the unit is unobtrusive enough to be left in place year-round for holding postcards or favorite photos. $20; (800) 829-1133, www.taylorgifts.com.

If you like to keep on hand a selection of cards to send for holidays and other occasions, the Greeting Card Organizer lets you categorize and store 140 cards and envelopes vertically. The floral-patterned paperboard box (9-by-91/2-by-91/2 inches) includes 12 dividers and 24 self-stick labels. $10; (800) 848-2848, www.currentcatalog.com.

PRESENT PREPARATION


The Container Store Elfa gift wrap cart

Gift-giving is another holiday tradition that isn't limited to one special season. Birthdays, weddings, graduations and other present-worthy events practically guarantee a year-round need for gift wrap.

Of course, it takes more than mere wrapping paper to do the job properly. There's also tissue, ribbons, bows, sparkly confetti, shredded filler and tiny gift cards. These items can be awkward to store; so is gift wrap, whether rolled or flat.

The Elfa Mesh Gift Wrap Cart provides a handy home for all manner of gift-packaging necessities. This rolling modular organizer (25 inches long by 21 inches wide by 311/8 inches high) consists of a white metal frame with five metal-mesh drawers (three shallow and two deep) topped with a melamine work surface. Three optional clip-on accessories are recommended: the Ribbon Dispenser ($9) is a horizontal bar with a screw-on finial for storing and dispensing ribbon on spools; the Gift Wrap Organizer ($9) when combined with the Accessory Basket ($9) organizes rolled wrap vertically. $192; The Container Store located in Fashion Valley, (619) 220-0909, www.containerstore.com.


Jokari.com gift bag organizer

Gift bags have become a popular alternative to gift wrap, and they now come in a seemingly infinite range of sizes, shapes, patterns and materials. The Gift Bag Organizer safely stores up to 150 bags in the most space-efficient way. Designed to hang from a closet rod via a metal swivel hook, the two-sided unit (341/2 inches tall by 16 inches wide by 4 inches deep) consists of multiple clear plastic pockets attached to a white vinyl backing. The pockets are sized to hold all types of totes, including wine bottle bags, and there's a scissors pocket too. $17; (800) 600-9817, www.jokari.com.

TABLE TERRITORY

Lifestyle experts have become fond of suggesting that people should use "the good china and crystal" every day. But most of us prefer saving those pieces for holiday meals and other special occasions. Keeping fine china and crystal stemware in perfect condition between uses requires specific storage solutions.


Kangaroom china storage

The China Storage Set and Stemware Keeper are protective systems designed to prevent chips, cracks, scratches and breakage. Made of densely padded cotton twill, each piece has a zippered top, a slot for an ID label and extra padding between items. The five-piece China Storage Set (which holds six dinner plates, six bowls, six salad plates, six saucers and 12 cups) includes inserts to place between plates and dishes, while the Stemware Keeper (which holds 12 wine or champagne glasses) has removable dividers to protect glass and crystal. $80 and $25, respectively; (415) 543-3615, www.kangaroomstorage.com.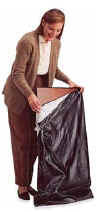 Table Leaf Bag

Setting a beautiful table requires more than fancy tableware when you're entertaining a large gathering. The humble table leaf only gets dragged out when company comes, usually staying tucked out of sight the rest of the year.

There seems to be no consensus on the best way to store table leaves. Some furniture experts recommend keeping them upright and straight — not leaning — to minimize warping; others insist that only horizontal storage will prevent warping.

The only thing everyone agrees on is that you should try to keep table leaves as close as possible to the table, and store them in a closet rather than in a garage orother potentially damp storage area so that they will be adjusting to the same relative humidity as the table.

Whether you choose to store your leaves vertically or horizontally, a table leaf protector is a wise and inexpensive investment to guard against scratches, dirt and dampness.

A good example is the Table Leaf Bag, a water-resistant sheath featuring a vinyl shell that provides protection from moisture and mildew, a soft poly/felt lining to keep wood scratch-free, and a hook-and-loop flap closure. The bag fits table leaves up to 28 inches by 52 inches. $11; (800) 634-9484, www.improvementscatalog.com.


HARRIET SCHECHTER is founder of The Miracle Worker Organizing Service and author of three books, including "Let Go of Clutter." Her online advice column is at www.MiracleOrganizing.com.