organized outlook
Space Saviors
Everything in its place and a place for everything are the key ingredients for a well-functioning kitchen
HARRIET SCHECHTER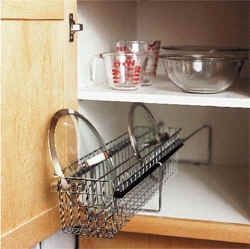 Cookware lid rack
If the only thing you enjoy making for dinner is reservations, maybe you need some help in the kitchen.
Of course, it would be nice to have a personal chef. But for most households, having an efficiently organized place to prepare meals is perhaps a more realistic kitchen-help alternative.
Nowadays there are "kitchen helpers" designed to make the most of virtually any type of space. No matter how large or small your kitchen is, there's a good chance it has some under-utilized space hiding in plain sight. Walls, doors, ceilings, floors — all surfaces, not just cabinets and counters — have the potential to provide storage.
You don't have to remodel, either; the trick is choosing the right storage solutions for your kitchen needs.
What follows is an overview of the best options for keeping meal-making ingredients and utensils handy.
PANTRY POWER
Even "convenience foods" become inconvenient when they're a cluttered jumble of cans, jars, bottles, boxes, bags and packets. A well-organized pantry lets you easily view and quickly access your inventory of packaged ingredients.
A pantry is simply any place where nonperishable foods and condiments are stored. The separate pantry room (essentially a walk-in closet lined with shelves) used to be a commonplace element in houses, and this concept is now experiencing a renaissance in newer dwellings. But in most homes today, a pantry is often just a closet or cabinet in the kitchen area.
You can create effective pantry storage in even the most limited space, thanks to these cleverly designed helpers:
• Pantry caddies are rolling shelf units designed to fit in narrow spaces, such as the gap between a refrigerator and cabinets. Shelves are "lipped" to keep items from falling off when the unit is rolled out. At 56 inches high, the six-shelf Thin Pantry Caddy ($100, www.improvementscatalog.com ) is the tallest version; it's 9 ½ inches wide by 24 inches deep, and available in white or oak finish.
If you need a narrower, more compact unit, the three-shelf white melamine Roll-out Laundry Caddy ($50, www.taylor-gifts.com ) is a mere 8 inches wide by 31 inches tall by 25 inches long.
• Over-the-door and wall-mounted racks are another efficient way to "pantrify" your kitchen. The Over-Door 5-foot Rack ($18, Target) has six white coated-wire shelves, each with a 2 ½-inch lip; the entire unit measures just 5 inches deep by 64 inches high by 19 inches wide. The Container Store (www.containerstore.com ) also carries a selection of different wall- and door-mounted pantry racks in various sizes and styles.
• Turntables, commonly known as Lazy Susans, have long been used for accessible storage in deep corner spaces below or inside cupboards. A new twist, so to speak, is the chrome-plated Telescoping Kitchen Counter Rack ($25, www.shopgetorganized.com ), which features two 12-inch-diameter racks that revolve on a 19-inch-high pole. More high-end versions in a range of sizes, materials and prices ($72 and up) are made by Rev-a-Shelf and may be found at Home Depot, Lowe's, and online retailers such as www.ovisonline.com .

Appliance garage
COOK'S CORNER
Ideally, all of your cooking implements — pots, pans, utensils, small appliances — should be located where you can access them easily when you need them, yet out of the way when you don't. Easier said than done, but not impossible if you utilize these storage saviors:
• An appliance garage is a countertop device featuring a tambour (roll-down) door designed for concealing bulky, frequently used items that tend to live on kitchen counters (e.g., blender, mixer, slow-cooker). Because it converts the space between wall cabinets and base cabinets into storage compartments, this type of unit requires installation. Prices start at around $90; a good source is Rockler (www.rockler.com or (858) 268-1005).

Ceiling-mounted pot rack
• For keeping pots, skillets and other types of utensils accessible without using counter or cabinet space, hanging pot racks are a popular solution. They come in a seemingly infinite number of styles — some feature a shelf or include lights. If your wall space is limited, the ceiling-mounted variety is ideal. You can find them at many housewares retailers, including J.C. Penney and Kmart, starting at under $100. There also is an outstanding collection starting at $150 at www.potracksgalore.com .
• If your pot lids have a tendency to go AWOL, the chrome-plated Cookware Lid Rack ($20, www.cooking.com ) may help keep them at your fingertips. The 6-inch-wide, 22-inch-long slide-out rack holds four to eight lids and prevents them from getting lost at the back of a cabinet.
---
HARRIET SCHECHTER is founder of The Miracle Worker Organizing Service and author of three books, including "Let Go of Clutter." Her online advice column is at www.MiracleOrganizing.com .